His Studies in high school coincided with the commencement of the First World War, and therefore the French schools, including the one in which he was studying, had to closed down.
After two years, he went to the American College of Beirut, graduating with a bachelor's degree of Art and Science at the age of seventeen. He obtainded his biology degree at the age of nineteen, and then continued his studies in Civil Engineering. He then studied Medical Science, Mathematics and Astronomy. As a graduate of the Engineering School in Beirut, he was admitted to the "Ecole Superieure d'Electricite "and graduated in 1925. At the same time, he was employed by the French Electric Railway Company.
He continued his research in Physics on "Sensitivity of Photoelectric Cells" and received his PHD in physics at the age of 25. He was well acquainted with the traditional Iranian music as well as the classical Western music and played piano and violin skillfully.
He was active in sports and as a youngster earned his living pardy by acting as a swimming instructor and a life guard at the Mediterranean coast in Beirut.
During his life, he held various important scientific and cultural positions. He also founded many cultural and scientific centers in Iran, such as the Civil Engineering School and the Teacher's College in 1928, the first Iranian Meteorological Station in 1931, the first radiology center in 1931, the first private hospital called Goharshad ", named after his mother, in 1933, Tehran University and its Faculty of Sciences in 1934, the Telecommunication Center of Assad Abad in Hamadan in 1959, The Geophysical Center of Tehran University in 1961, the Atomic Energy Organization of Iran, the Iranian Music Society and the Academy of Iranian Literature.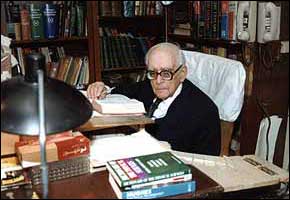 Life is research and understanding of new things.
Professor Mahmoud Hessaby
His other cultural and scientific services include the first survey of Iranian coastal road-map at Persian Gulf setting the Iranian time in 1932, writing Tehran University's charter, acting as the Dean of Technical Faculty of Tehran University from 1934 to 1936, acting as the Dean of Science Faculty of Tehran University over the periods 1942 – 1948 and 1951 – 1957, heading the delegation for dispossession of British Petrolium Company during the Government of Dr. Mosaddegh, First General Manager of National Iranian Oil Company, acting as Minister of Education in Dr. Mosaddegh's government from 1951 to 1952, writing the charter for Iranian Standard Institute in 1954 and Iranian representative in United Nation's Scientific Sub-committee of Peaceful use of Outer Space from 1960 to 1967. He continued lecturing at University for 3 working generations, instructing 7 generations of students and professors.
He had a good command French, English, German and Arabic languages and he also knew Sanskrit, Latin, Greek, Pahlavi, Avesta, Turkish and Italian, which he used for his etymological studies.
25 research papers, articles and books of him have been put to print. His theory of "Infinitely Extended Particles" is well-known among the world scientists. The medal of "Commandeur de la Legion d'Honneur", greatest French scientific medal was awarded to him for his theories.
Hessaby was the sole Iranian student of Professor Albert Einstein, and during his years of scientific research he had meeting and discussions with well-known scientists such as Schrodinger, Born, Fermi, Dirac, Bohr and scholars such as Russell and Andre Gide.
During the Congress of" 60 Years of Physics in Iran "the service rendered by him were deeply appreciated and he was entitled" Iran's Father of Modern Physics.
He died on 03 September 1992 while under medical care at Geneva Cardiac Hospital. He was buried in Tafresh, according to his wish and will.