He grew up in his native village of Yosh and used to help his father with the farm and cattle. His early education in a maktab (traditional school taught by a Mullah) wasn't satisfactory and later at the age of twelve he was taken to Tehran. Niam was enrolled at St. Louis, a Roman Catholic School.
He began writing poetry when he was a school student. Nezam Vafa (1883-1960), one his teachers, took Nima under his guidance and encouraged him by reading his poems and helping him to improve his poetic abilities. Nezam Vafa was himself a lyric poet who wrote simple love poems in the classical style.
Nima in his speech to the First Congress of Iranian Writers, 1946, in Tehran, Nima Yushij said:
"My first years of life were spent among the shepherds and horse-herders who, in their seasonal movements from one grassland to another, every evening sat round the fire on the Mountainside for long hours. From my childhood years I remember nothing but savage fights, and other things related to a nomadic life, and the simple amusements of those people in an atmosphere of monotony and ignorance. I learned reading and writing from the Akhund [preacher and teacher] of the village where I was born. He used to run after me through the alleyways and, catching me, tied my thin feet to rough, thorny trees and beat me with long canes. He had made a scroll by pasting together some letters which peasants had written to their relatives, and he ordered me to learn the whole scroll by heart."

[From: "Modern Persian Poetry" by: Mahmud Kianush]
Nima was more emphasizing on the length of the line to be determined by the depth of the thought and not by the conventional length of a beyt (verse). Nima portraits his poetry techniques in this quatrain:
With my poetry I have driven the people into a great conflict;
Good and bad, they have fallen in confusion;
I myself am sitting in a corner, watching them:
I have flooded the nest of ants.

[From: "Modern Persian Poetry" by: Mahmud Kianush]
He took poetry out of the court's rituals and brought it to the streets. Nima added color and flavor to his compositions by using the natural speech of the people.
What made Nima Yoshij a great, powerful guru for the young poets of his time were his innovations in form and style rather than the content of his poetry. He came to the scene of change at a time when all the conservative efforts of the Neo-classicists, Revivalists and others had failed to free Persian poetry from the long decadence which was, to a great extent, the result of the ruling power of prosody over subject matter.

[From: "Modern Persian Poetry" by: Mahmud Kianush]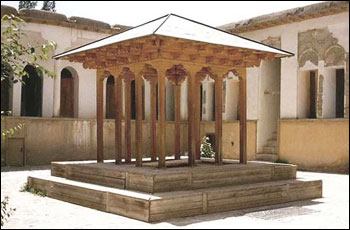 Mausoleum of Nima Yoshij in Yosh (Mazandaran Province)