The relief of Shapur I at Naqsh-i Rajab and detail of the inscription.Naqsh-e Rajab is an archaeological site just west of Istakhr and about 5 km north of Persepolis in Fars Province, Iran. Together with Naqsh-e Rustam, which lies 2.5 km away, the site is part of the Marvdasht cultural complex.
| | |
| --- | --- |
| Description | Naqš-e Rajab, Equestrian relief of Shapur I |
| Date | 241 CE–272 CE |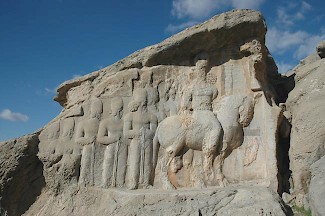 The Equestrian Relief of Shapur I (r.241-272) was cut directly opposite the Investiture Relief of the same king. He is shown on horseback. Behind him are nine people, who may have been important courtiers or members of the dynasty. They cannot be identified, except for the one immediately behind the king, who is probably identical to crown prince Hormuzd.
There are no defeated enemies below the horse's feet, which suggests that this relief was made before 244: in that year, Shapur defeated the Roman emperor Gordian III and put Philippus Arabs on the Roman throne. This victory is celebrated on the first relief of Bishapur.
At Naqš-e Rajab, there is a trilingual inscription in front of his horse, which says:
This is a figure of the Mazda-worshipping demigod, lord Shapur, the king of kings in Iran and abroad, who received his face from God, son of the Mazda-worshipping demigod, lord Ardašir, the king of kings who received his face from God, and the grandson of lord Papak, the king.