Abbas Kiarostami was born on June 22nd 1940 in Tehran, he was interested in the arts from an early age. He won a painting competition at the age of eighteen, and left home to study at Tehran University's Faculty of Fine Arts. As a designer and illustrator, Kiarostami worked throughout the '60s in advertising, making commercials, designing posters, creating credit titles for films, and illustrating children's books.
In 1969 Kiarostami helped to set up a filmmaking department at the Institute for Intellectual Development of Children and Young Adults. The department's debut production was Kiarostami's own first film, the twelve-minute "Bread and Alley" (Naan va Koche), a charming, neo-realist is about a small boy's perilous walk home from school. The department would go on to become one of Iran's most famous film studios, producing not only Kiarostami's films, but also such modern Iranian classics as The Runner and Bashu, the Little Stranger.
Though Kiarostami's films have been compared at various times to those of Satyajit Ray, Vittorio de Sica, Eric Rohmer, or Jacques Tati, they remain uniquely Kiarostamian. Effortlessly simple and conceptually complex in equal measure; poetic, lyrical, meditative, self-reflexive and increasingly sophisticated, they mix fiction and documentary in unique ways, often presenting fact as fiction and fiction as fact.
In the 28 years since Bread and Alley, Kiarostami has made more than 20 films, including fiction features, educational shorts, feature-length documentaries, and a series of films for television. He has also written screenplays for other directors, most notably "The White Balloon" (Badkonak-e Sefeed), for his former assistant Jafar Panahi.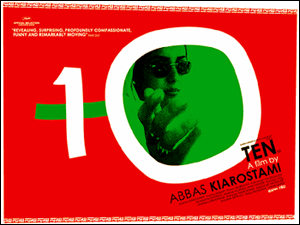 But it was not until the late '80s that his films began to be shown outside Iran. He received his first most important recognition with "Where is the Friend's House?" (Khaneh Doost Kodjast?), winning the Pardo di bronzo at Locarno in 1987. "Life Goes On" (Va Zendegi edameh darad) in 1992 (the first of Kiarostami's films to be shown at the New York Film Festival) won the Rossellini Prize at Cannes, and Through the Olive Trees (Az Mian-e Derhtan-e Zeitoon) 1994 were the films that made Kiarostami's reputation in the West. In 1995 he was part of the jury at the Venice Film Festival and in 1996 he was honored with a retrospective at the Film Society of Lincoln Center, New York.
In 1997 he came to the Cannes Film Festival with "Taste of Cherry" (Taame Gilas), only to walk away with the grand prize, becoming the first Iranian director ever to win the Palme d'Or. He was also awarded the Special Prize of the Jury at the Venice Film Festival in 1999 for "The Wind Will Carry Us". In 2000, at the request of the United Nations' International Fund for Agricultural Development, he travelled to Uganda to make the documentary ABC Africa, his first film shot on digital video. In 2002 he premiered his newest film, "Ten", at Cannes.
Kiarostami is also a noted photographer and poet. A bilingual collection of more than 200 of his poems "Walking with the Wind" was recently published by Harvard University Press.
"I believe the films of Iranian filmmaker Abbas Kiarostami are extraordinary. Words cannot relate my feelings. I suggest you see his films; and then you will see what I mean"
– Akira Kurosawa –